Elena-style leg of pork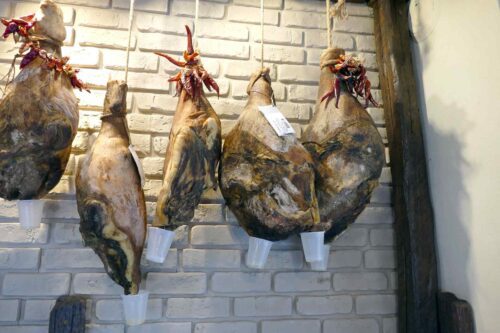 Ingredients:
Leg of pork, salt
Method:
Salt the fresh leg of pork and leave it this way for 40-50 days to absorb the salt. Take it out in February and leave to hang in an airy place to dry up for at least 10 months and up to 1 year. Noble mold should develop on its surface. The leg of pork can be stored for even longer than 2 years. To serve, cut into very thin stripes.
---

Elena-style dry pork fillet sausage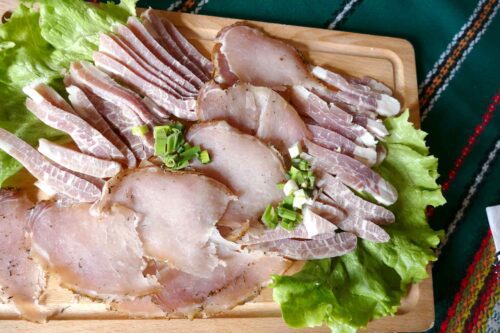 ---

Pate (pork stuffed in pig maw)
---

Kopiska (sour cabbage with fatty pork)
Ingredients:
sour cabbage, fresh fatty pork, fermented cabbage juice, black pepper, paprika, bay leaf
Method:
Boil the meat with the sour cabbage and some fermented cabbage juice. Season with black pepper, paprika and bay leaf. Finally, bake in the oven for a short while.
---

Karvavitsa (blood-sausage)
Ingredients:
pork lung, fatty bloody pork, rice, salt
Method:
Stuff the large pork intestines with a mixture of chopped pork lung, fatty bloody meat from the pig's neck, and rice. Tie up the stuffed intestines into pieces and boil until ready. Serve Karvavitsa blood-sausage cool.