Groats zelnik
Ingredients:
For the dough: white flour, water, salt
For the stuffing: groats, cheese, lard
Method:
Make dough with the flour, water and salt. Roll it out in sheets and leave them to dry up for 30 minutes. Grease a baking dish with lard, rumple slightly the dried up sheets and arrange them while sprinkling in between the stuffing made of groats boiled in advance and mixed with melted lard and crumbled white cheese. Cover the pie with a dough sheet and bake over the plate of the stove. When ready from the bottom, turn upside down to bake the opposite side in the greased baking dish. Finally pour some water, top with crumbled cheese and leave in the oven for 5 minutes. Traditionally, this zelnik is made for Vasilyovden (January 1st, St. Basil's Feast) but is good for everyday meals too.
---

Red stew with lamb
Ingredients:
lamb meat from the frontal section of the lamb's neck, onion, a few stalks spring onion, thyme, mint, paprika, fenugreek, costmary, salt, water
Method:
In a pan, cut the washed lamb meat and stew. Then add to it the finely cut onion, as well as the spring onions and the seasoning (salt, thyme, mint, paprika, fenugreek, costmary). Stir well and stew again. Finally add enough water to cover the ingredients and cook for 1 hour at a moderate temperature.

Milky flat cake
Pàrenik
Easter kravay (bun cake)
Pickled red peppers
---

Georgi talked to Neda (folk song)

Petlyovden (Rooster Day): legend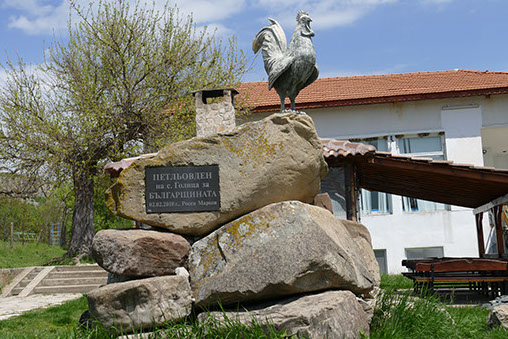 Vayatsi (vaykovtsi)
"… A few carts jangled and came to a halt outside the inn. More than 15-20 villagers entered the pub. It was a matter of a quick glance to figure out who had come and where from. Like the visitors wearing big fur caps and padded jackets: stout and hairy men. They are regarded as a little bit wild and are dubbed vayatsi, as they often use the word va: "Ivan, come va!" or "Come here, va!"…
From Inn at Antimovo (1927), a volume of short stories by Yordan Yovkov