Lamb with groats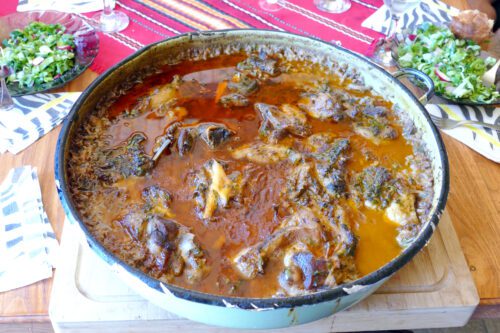 Ingredients:
for 10–12 servings (a baking dish of lamb with groats) fresh lamb, 150-200 g lamb gizzard, 2 cups groats, 1 cup rice, 12 cup water, 3–4 onions, 2–3 tbsp. paprika, oil, 4–5 g black pepper, salt, ½ bunch fresh cow parsnip, ½ bunch parsley
Method:
Cut the meat into pieces and salt the meat. Put the groats and the rice in a baking dish. Brown the onion in a handsome amount of oil and then add the paprika to it. Pour the brown sauce over the groats and rice. Add the gizzard, the black pepper, the cow parsnip, parsley and a little water. Arrange the meat (10–12 pieces depending on their size) in a baking dish. Pour water, cover with aluminum foil and put in the oven. Bake for the whole night – about 10–12 hours. Lamb with groats is usually cooked for Gergyovden (St. George's Feast).
---

Chesnenitsa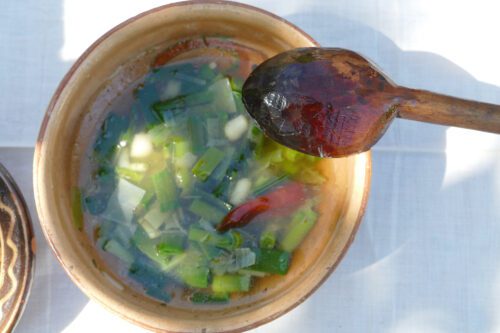 Ingredients:
4–5 stalks green garlic, 2–3 hot peppers, water, salt, vinegar, fresh cow parsnip, fresh parsley, fresh dill
Method:
Soak the peppers in water to let them soften. Cut the fresh garlic in bulk and put together with the softened peppers in boiling water. Cook the mixture for 15–20 min., until the garlic softens. Finally, season with salt, chopped fresh cow parsnip, parsley, dill and some vinegar (optional).
---

Balls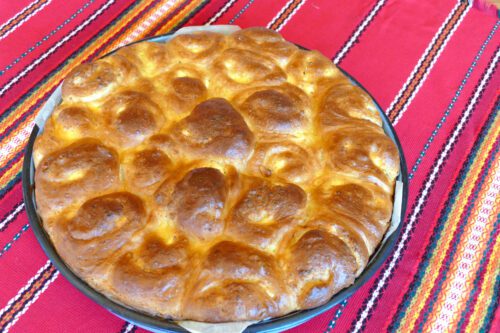 Ingredients:
1 kg wheat flour, 1 pack yeast, 1 tbsp. sugar, 1 tbsp. salt, 3 eggs, 200 g yoghurt, 250 g white cheese, 200–250 g lukewarm water (or milk), 1 tbsp. lard (or 2–3 tbsp. oil)
For the topping: 2 eggs, 200 g yoghurt
Method:
Sift the flour and make a well in it. Dilute the yeast with the sugar and salt in lukewarm water, leave for a while to rise, and then pour in the well. Add the beaten eggs, the lard, the yoghurt and some more lukewarm water. Make soft pastry, then cover with a cloth and leave in a warm place to rise. Next, make a wick from the pastry, spread lard all over it and sprinkle with white cheese. Cut into pieces (2-3 cm) and arrange the pieces in a greased baking dish. Leave to rise again. Add the topping made from the rest of the eggs and from the yoghurt and cook in the oven at a moderate temperature. When ready take out of the oven and cover with a cloth to rest. The balls are served mostly on weekends and holidays.
---