Dolagach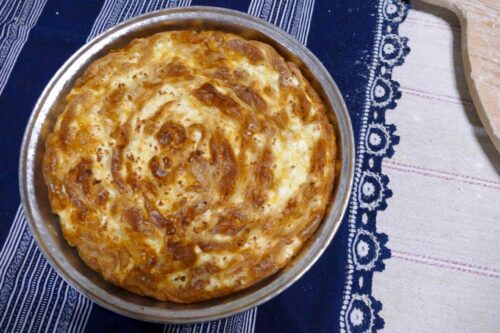 Ingredients:
flour, white cheese, yeast, eggs, salt, sugar, water
Method:
Sift the flour and make a well in it. Dilute the yeast in warm water and pour into the well. Season with salt. Knead the dough, divide into balls and knead them in turn for a while. Leave them aside to rise. Roll out each ball into a separate, not very thin sheet. Grease the sheets with melted butter and sprinkle with white cheese. Rumple each sheet instead of rolling it up, and shape into a loose snail shape. Arrange the sheets in a baking dish greased with butter one round the other. Beat 4 eggs with a little water. Sprinkle the dolgach with sugar, top with butter and the beaten eggs. Bake at 180C for about 40–50 minutes.
---

Leeks with damsons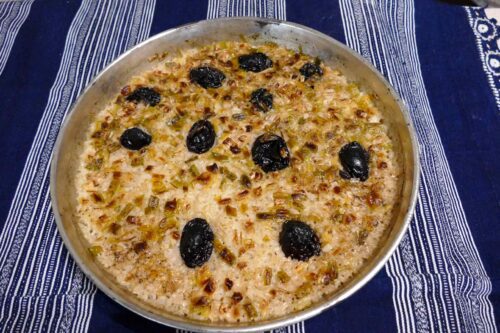 Ingredients:
a few stalks of leeks, 1 onion, rice, dried damsons, oil, lard, salt, black pepper, olives
Method:
Melt the lard. In it, brown the onion and add the leeks. Then add salt and water and stew. Put in the rice with a ratio of 1:4 to the water. Stew until the rice swells and softens and sprinkle with ground black pepper. Pour the mixture into a baking dish, add the damsons, and optionally some olives. Bake in the oven.
---

Sweet gruel
Ingredients:
butter, oil, flour, 1 bowl sugar, salt
Method:
In a pan, melt the butter with the oil. Add several tbsp. of flour and stir until the flour changes color. Add salt. Gradually pour in warm water while stirring constantly to prevent lumps. When the mixture begins to thicken, add the sugar. Stir the gruel until it is brought to the boil and the sugar melts. Serve in bowls.
---

Dried pepper gruel
Ingredients:
Peppers cut into stripes and dried, flour, 1–2 cloves garlic, water, salt, vinegar, eggs
Method:
Cook the peppers in salted water until they soften. Crush the garlic cloves, mix flour with some water and mix. Add to the boiling peppers. Stir until the mixture feels like a thin gruel. Add a little vinegar. You may thicken the gruel with eggs instead of flour.
---

Bathed cheese pie (banitsa)
Presenchana flat cake
Swirled banitsa
Raki
Boiled lamb (kurban)
Meat cuts
Wedding groats
Kaygana