Mackerel on tsakaliya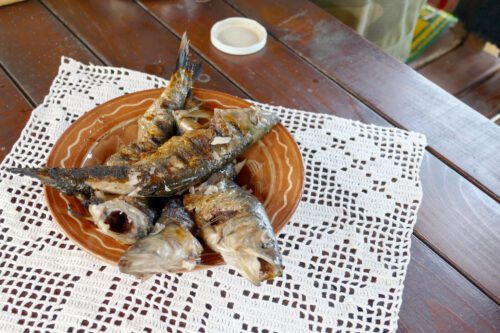 Ingredients:
fresh mackerel (pike, barbel, catfish), salt
Method:
Clean the mackerel from the inwards, but keep it whole together with the head and tail. Salt the fish and pin on a sharpened moist stick – lengthwise through the mouth. Roast over fire at an angle of 45°, or you may also grill it. Serve with lemon or with pickled hot peppers.
---

Salamurika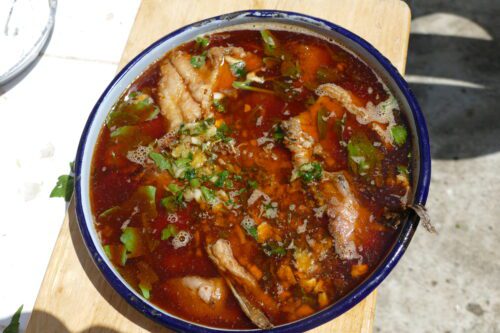 Ingredients:
Danube fish (vimba bream, common bream, crucian carp, barbel), flour, salt, fresh cow parsnip, paprika, oil, 1–2 cup water
For the marinade: 1 head garlic, 2–3 stalks cow parsnip, salt, water
Method:
Clean the fish from the inwards, remove the head and tail and cut across the back. Cut into pieces, salt and roll in flour. Fry in heated oil. When it is cooked, take it out and place it in a dish with chopped fresh cow parsnip. Put the paprika in the same oil and brown a bit, add the water and pour the mixture over the fried fish. Finally top with the marinade made from crushed garlic, finely chopped fresh cow parsnip and some salt to taste.
---