Stuffed vine leaves (sarmi)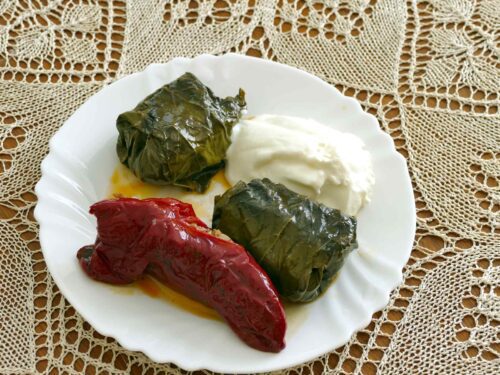 Ingredients:
500 g minced meat, 800 g onions, 200 g rice, vine leaves, water, paprika, dill, salt, sunflower oil
Method:
Finely chop the onions and fry in the oil. Add the rice and the minced meat, fry and season the mixture for the stuffing with paprika, dill and salt to taste. Spread a few leaves at the bottom of a deep pan. Use a spoon to put a little stuffing into each of the rest of the leaves, wrap well and arrange in the pan. Cover the stuffed vine leaves with a few leaves, cover with water and boil about 30 min. at a low temperature. Serve with yoghurt.
---

Parzhituri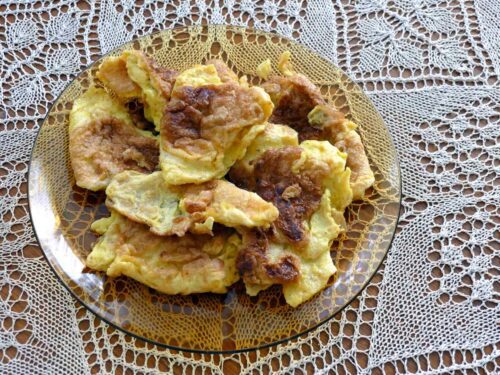 Ingredients:
5-6 eggs, 1 tsp. salt, 1 tsp. paprika, 1 pinch of corn flour, 1 pinch of wheat flour, 1 tbsp. lard
Method:
Beat the eggs in a deep bowl. Add the paprika, the corn and wheat flour and the salt. Pour the mixture in a frying pan with the melted lard. Fry on both sides and while still in the pan, cut the parzhitura into pieces to help it rise.
---

Banitsa (pastry with white cheese)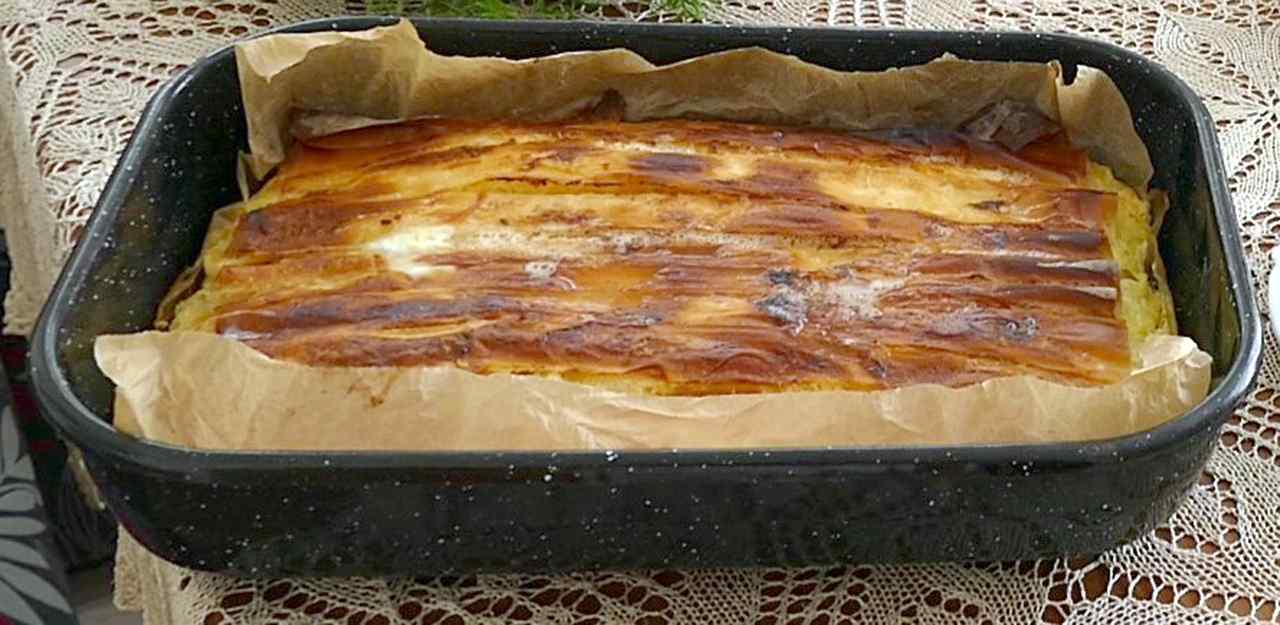 Ingredients:
1 pack pastry sheets for banitsa, 5 eggs, 500 g white cheese, 1 cup sunflower oil, 2 tbsp. yoghurt, grated zest of 1 lemon, 1 cup of aerated water, 50 g butter, baking powder
Method:
Beat the four eggs in a deep bowl. Add the crumbled cheese, the oil, the yoghurt, the grated lemon zest, and some baking powder. Stir the mixture well and use it to sprinkle the sheets of pastry. Then make a roll from each sheet and arrange in a rectangular baking dish after covering the bottom of the baking dish with slightly moisturized baking paper. After rolling and arranging the pastry, pour over a mixture of one beaten egg and a cup of aerated water. Finally add the butter cut into pieces. Put in the oven and bake for about 30 min.
---